First mural, completed in February of 2021 was a vintage Texaco station mural, patterned after several structures still around in our area. The entire wall was painted blue first. Then I painted some clouds, two trees (the second is behind the hanging Texaco sign, and then the structure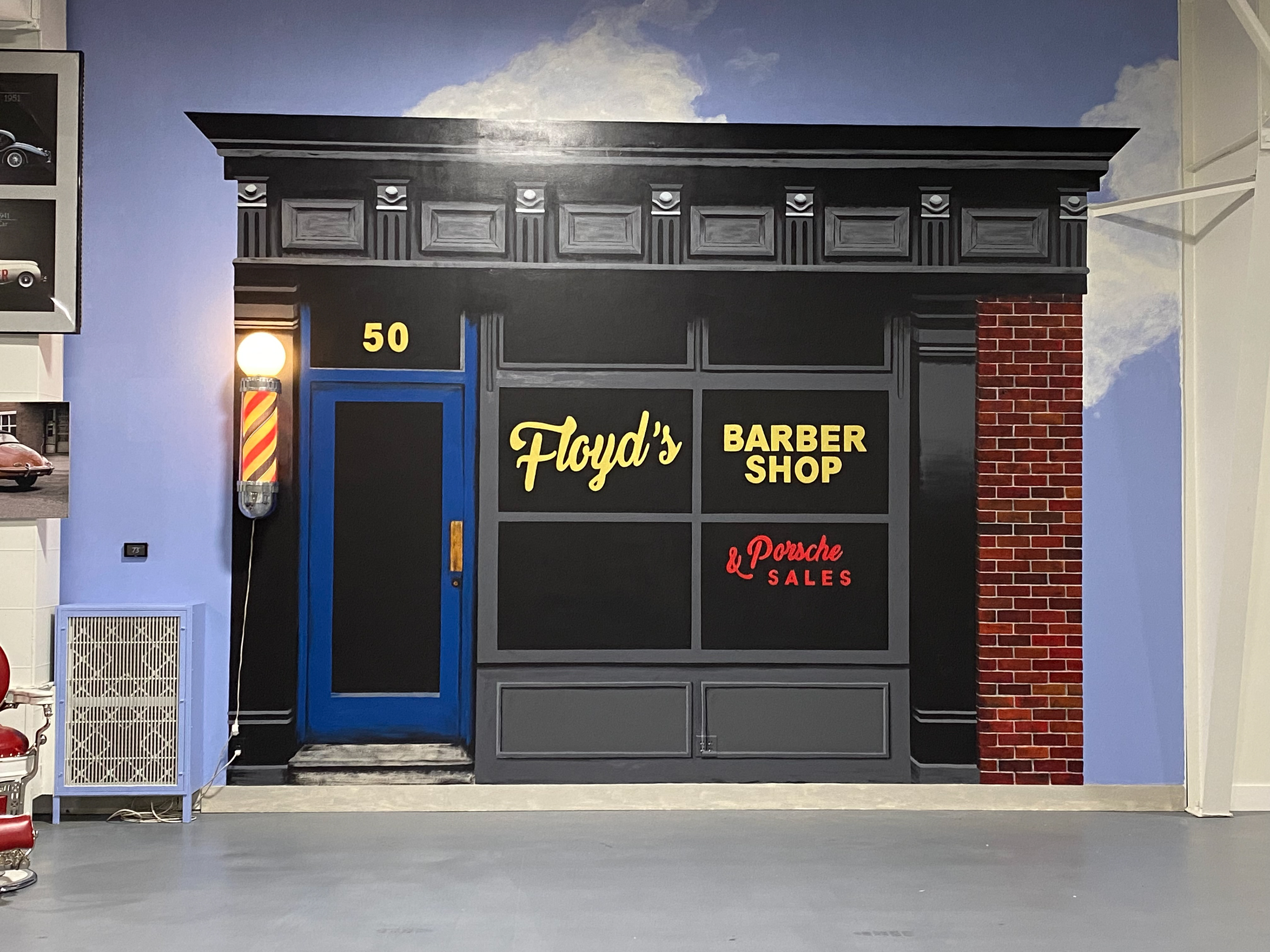 The structure did not have the finishing details until August 2021, and is still waiting on "curbs" that will finish out the building facade. What a difference the details make!
The second project was a WW2 mural, including a P51 plane mural that covers the side entrance door.... and a B17 bomber, flanked by two more P51s. The sky was painted 6' up allowing me to paint a tarmac, clouds, and horizon line. The tree mural was added in the corner, and once the plane murals were complete the nose art was added to the wall. Closeup pictures of the planes are below.
Personalization was done on all of the P51s and on the B17 bomber mural to include important names and other details.
This picture was taken in Sept 2021 of a 100 year old WW2 vet in front of the plane mural! The Car Barn project manager just happened to meet the man at breakfast. He was thrilled to see the murals and all of the great cars!
The third project in the Car Barn murals was a Floyd's Barbershop mural. A longtime fan of the Andy Griffith show, Floyd's Barbershop was a favorite of the project manager. He wanted some very specific elements like the brick column, vintage detail, a place to put the working barbershop pole that made sense, and a four pane window front. I put together about four pictures to come up with this. We decided on a black-ish color to contrast with the surroundings. Since the completion of the mural, a wooden bench has been purchased as a finishing touch to this facade. 
The fourth project in the Car Barn mural was a Parts Department to emulate a Chevy dealer that used to be a very prominent one in our area. The two signs on either side of the neon (the yellow one with a slogan of the old business) are mural signage, and the stainless steel swinging doors are also painted.
Vintage clothing and tires from a 63 Corvette now accessorize the space.