This is the main wall of the new "WOW" cheerleading mural. There are very few cheerleading murals online to even research, so Catoosa County middle and high school cheerleaders have a truly unique environment now. I made the room so full of excitement, that when the football coach walked in, he said, "WOW! I want to be a cheerleader now!" because of the new energy he felt in the place. Not only did the girls get quote, but they got color and vibe, equal to their own.
The quote put on this wall of the cheerleading murals was the spirit of the girls going forward. That "when these walls fell, we didn't!"
I combined several found graphics to create this fun cheerleading mural in 2 shades of Ringgold blue - the 3rd of 3 walls. I would love to have put neon for the word "Cheerleading" but it wasn't in the budget. It would have looked stellar, tho!
This outdoor cheerleading mural signage was created to match the signage already painted and in place for the wrestlers at the other end of the building, to help identify which group was in which end.
These walls in the newly renovated and upgraded wrestling complex used by both Ringgold middle and high school wrestlers got some motivational imagery with a tiger mural, an identification mural, and painted names and dates of the awards won by the team.
These other walls in the newly rebuilt wrestling and cheerleading complex got the same branded oval tiger mural as found in the middle school gym. And names of State Placers wrap around 2 walls identifying those who qualified to place at the state level of competition.
Ringgold Wrestling Complex signage mural identifying their end of the wrestling and cheerleading complex. I also designed 2 metal signs letting everyone know when the team won various awards.
At LFO High School, the cheerleaders and wrestlers share the same new space, built in 2013. One of the cool things about how the architects designed this cheerleading mural is that its 33' height can be seen through the windows from the football stadium next to it!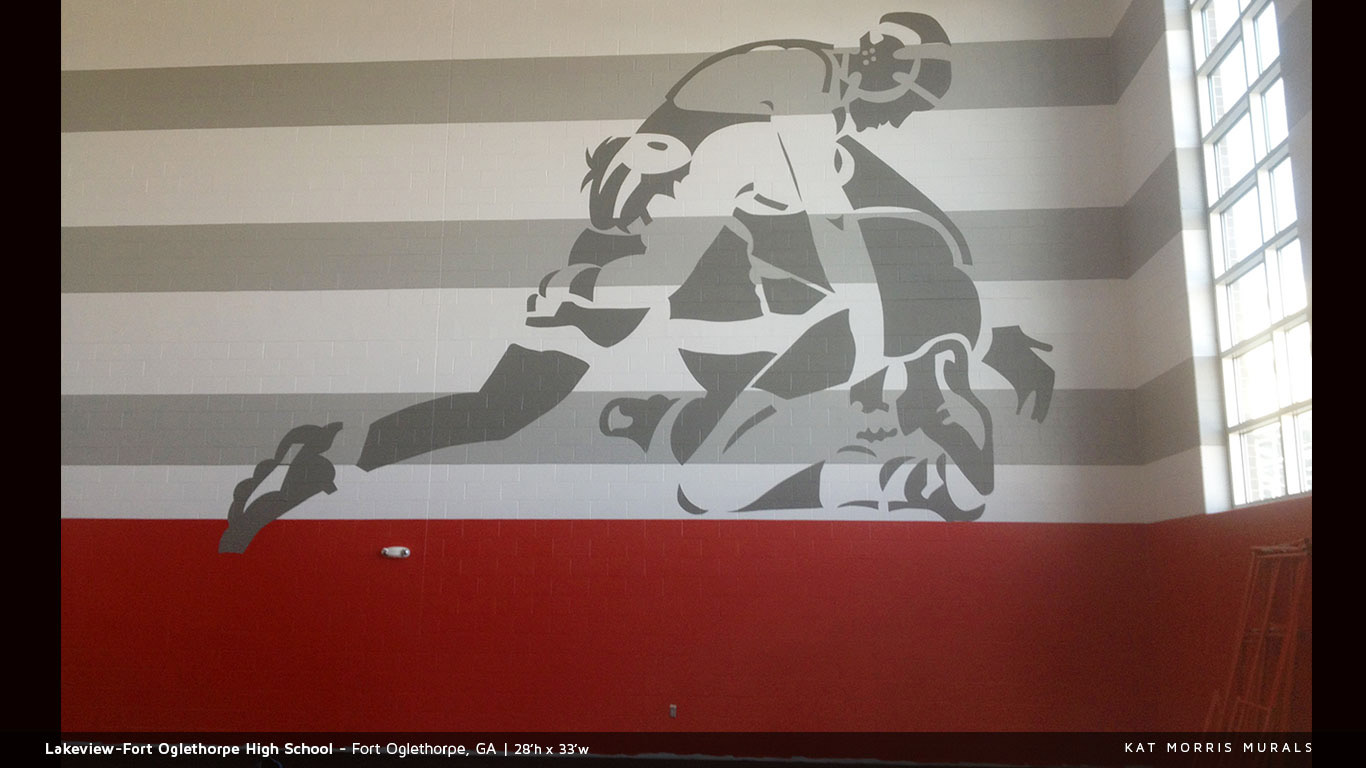 On the opposite wall from the cheerleading mural, this wrestling mural, painted in 2013, is actually clip art, spec'd out by the architects, painted HUGE onto the wall. Who knew clip art could look so cool?!