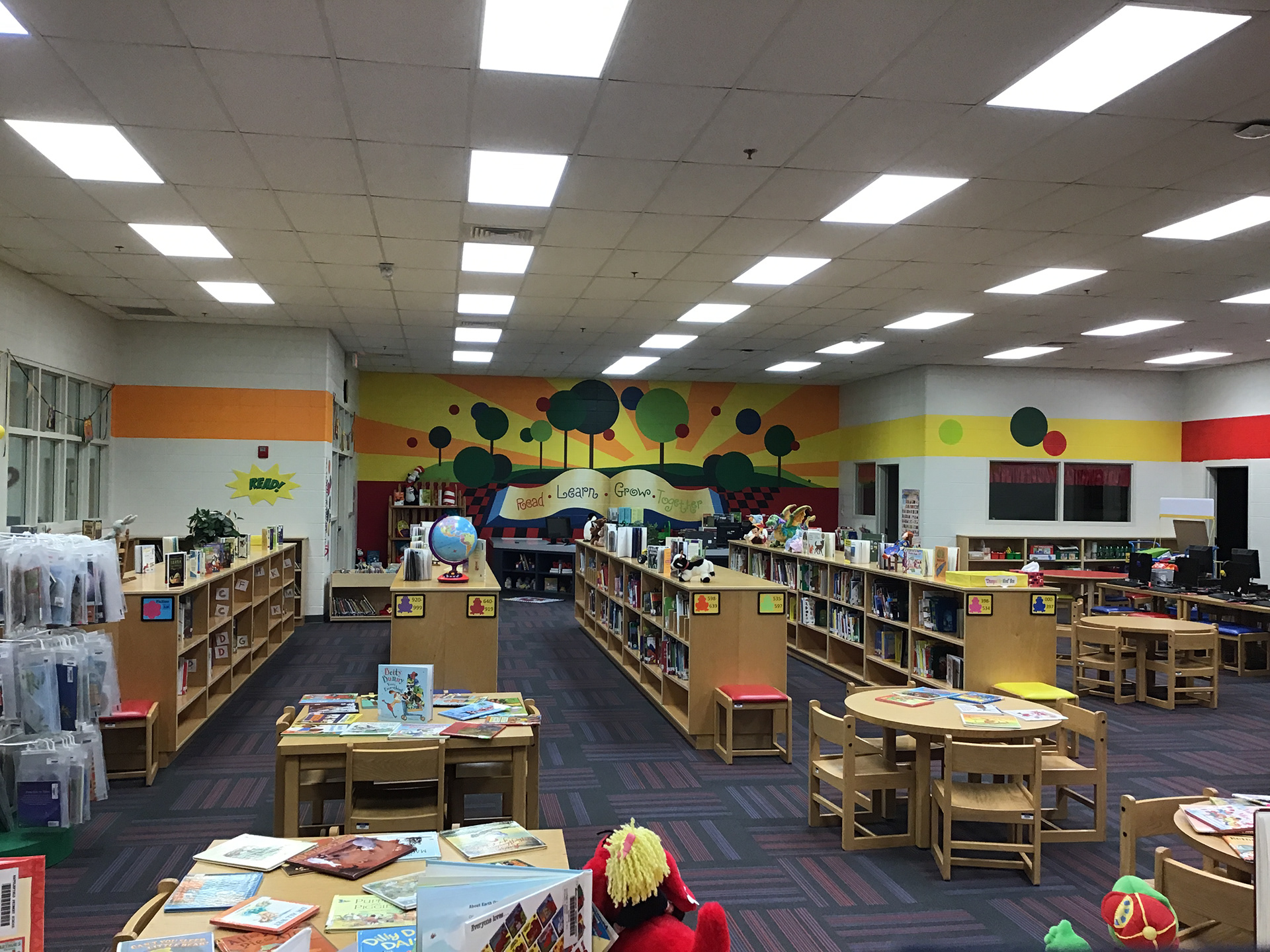 The goal of this media center mural was to add color and excitement to a pretty bland room. Mission accomplished with this book mural in bright, happy colors, with "circle trees" where messaging could be added at any time, if desired. 
For 3D fun, I suggested that the media center mural could be augmented with birds, like cardinals, (easily found as Christmas decorations) from the ceiling. Different shapes of leaves could be added to the circle trees for more fun. 
You can see a dramatic difference from the before and after pictures of this media center mural. A good book does wonders for a mural transformation too!
By the end of 2018, the Media Center Director at the school wanted to get rid of the rest of the 3 bands of color wrapping around the media center's interior. With limited budget, we mostly just added color, but also repeated the circles in clusters to include inspirational words, along with one character per cluster, taken from the 2013 mural we did on the outside of the media center. The inside is visible through the windows of half of the perimeter of the space, to including these characters really tied the two spaces together.
We extended the sun rays to walls visible from the far end of the media center, and then added the red "ray" on a 60' wall, spanning the entire width of the space, tying it back to the main mural. The circles use colors already present in the main mural, as well.
These images were taken after the first day of painting.  From the images above this text box, you can see the red color band wrapping to the far corner, and it will extend to the right side of the screen (usually down) before it changes to orange in the corner by the rear entrance/exit door to connect to the left side of the main mural and its new orange extension (see three pics above).
Here are all three of the circle clusters visible together (and visible through the glass to the right of this space). The red color band was chosen to tie in to the main mural and to the new carpet squares installed only months before. The inspirational words of "Explore" (with a pirate boy), "Dream" (with a girl reaching for stars) and "Create" (with a boy reading, that has an artist's palette, a pencil, and musical notes in that circle)
The before pictures are below. It's not hard to see why the Media Center Director worked hard to find money to use on updating the color bands to what we have now! It's amazing what a difference some color and simple mural elements can make!